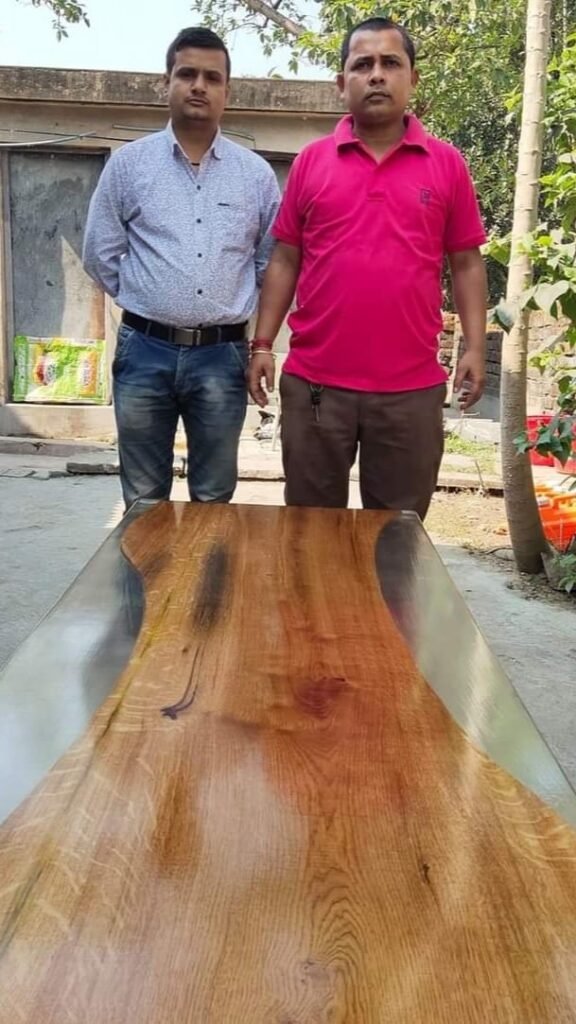 ROYAL EPOXY was incorporated in the year 2020 by Mr. Amit Nath along with his partner Bhargab Chatterjee; as a trading firm to market high Quality Epoxy products covering all fields like adhesives, floor-coatings, construction chemicals with a wide market range for industrial- Architectural sectors along with consumer sectors.

Since inception our constant effort was to sell quality products.
We have built an outlet to assist quality testing process and to showcase our products. Our manufactured products are checked on various parameters such as durability, tensile strength, and various other grounds so as to evaluate perfection.
During and after production, our products are monitored by expert quality controllers to insure integrity and equivalence.
Due to constant dedication we have received a significant support from customers which helped us to develop.
Mr. Amit Nath along with his partner Bhargab Chatterjee thought of bringing innovations in Epoxy products.
To be a leader in production of epoxy products such as tables and other structures and flooring, to the needs of our customers and to make ourselves visible on the face of the earth.
We want to establish and spread our business all across the globe. We are trying and will always try to meet the expectations of our customers.
We believe in deep collaboration and cross-pollination of our groups, which allow us to innovate and grow in a remarkable way.
Goal setting is one of the most important activities you can do to keep your business moving forward and set the stage for ongoing success. 
Hence our goals are…
To sell products that meet the present day needs of customers and to satisfy every expectation of our clients. Our goals are to frame our products according to our customer's satisfaction and to come up with innovation and secure a good position in the market.
Our objective is to provide quality and cost effective products which cater all classes of society with a tinge of satisfaction and excellence.
We have set some missions and would humbly request our staffs and clients for their co-operation to complete the missions successfully.
 To provide quality and cost effective products which cater all classes of the society.
To bring innovations in epoxy products.
 We work hard every day to make Royal Epoxy the world's most respected service brand.
 To provide superior quality services that: clients recommend to family and friends.
Team members' help each other succeed to accomplish the company's goals and provide their expertise on different projects and duties. Each team has specific roles and is typically structured in a functional way. We are fortunate enough to have got a wonderful team, who are working hard to uplift the name of our company.
Proprietor Partner: Amit Nath, Bhargab Chatterjee
Superviser: Sandip Nath
Head Carpenter: Ratan Gangadhar
Carpenter: Sonu Sharma, Bhola Sen, Harekrishna Pal,Sanjoy Debnath
Marketing head & QC manager:Debajyoti Adhikary
Custom Metal And Wood Table Legs
At Royal Epoxy, we make our own custom metal legs, often based on our customer's own table leg concepts. Get inspired by some of our designs, you can send us a photo or drawing of a leg you want us to reproduce. Then tell us what kind of tabletop you want.
We try to provide our clients with the best services and to do so, we have to follow certain rules and regulations and we expect our clients to follow those regulations
Before taking our services you are required to read the user agreement (or the rules and regulations) and accept all the terms and conditions accordingly. All our products are subjected to these terms and conditions and the same shall govern the contract between the clients and the organization.
The terms and conditions are listed below for reference
No cancellation of any products after 24 hours of placing your order. As we buy raw materials and other necessary items in advance; we are bound to honor the commitment of our suppliers. Therefore, customers have to agree to the adhere of the cancellation policy.
70% of the payment needs to be done as an advance and the rest at the time of delivery.
Delivery charges vary with time and place. If customer takes the product directly from the store than no delivery charges will be charged.
Refund will be done by the organization if the customer cancels the order within 24 hours of placing the order
ROYAL EPOXY (hereinafter referred to as the Company) is committed to respect privacy of every person, including its employees, business partner's associates, vendors, dealers, customers and all others who share their sensitive personal data or information with the Company.
The purpose of this Policy, as amended from time to time, is to give the information providers an understanding on how the Company intends to collect, receive, possess, store, transfer, handle, deal with and use the sensitive personal information provided to the Company.
Sensitive personal information of the information providers may be required to be collected, maintained and transferred for business and official purposes. Such sensitive personal information may have to be shared with other group companies or third parties, within and outside the country, as per lawful business requirements of the Company.
By executing a consent letter provided by the Company, the information providers will consent to the collection, storage, usage, disclosure, processing and transfer of their sensitive personal information provided to the Company for the purposes mentioned in this Policy.
The information providers have the option of not providing their sensitive personal information sought to be collected if they do not agree with this Policy. Further, the information providers also have the option to withdraw their consent given earlier, provided such withdrawal of consent is intimated in writing.
The Company has adopted reasonable security practices and procedure to ensure that the sensitive personal information is collected and preserved in a secured manner. In case the information providers wish to know more details about the adopted security practices and procedures, they may contact the designated person for the same.
While the Company will endeavor to take all reasonable and appropriate steps to keep the collected sensitive personal information secured and prevent its unauthorized access, the information providers agree and acknowledge that the Company cannot provide any absolute assurance regarding the security of the sensitive personal information. The Company disclaims any liability, to the fullest extent permissible under applicable laws, in relation to any breach of security or loss or disclosure of information in relation to the sensitive personal information.
Changes to this privacy policy
The Company reserves the right to revise and update this Privacy Policy at any time without expressly informing the information providers. Any such revisions will be effective on and from the date of posting the same to the website, intranet of the Company, and will apply to all information collected both prior to and following the effective date. The information provider need to visit the website, intranet of the Company periodically to review the current policies related to sensitive personal information.
Numbers Speak for Themselves
"As We Evolve,our homes should too.."
Talk to the top Indian custom Epoxy designers, makers and builders in India. Buy a custom Epoxy  products near you or online. You can start the custom epoxy product ordering process here or you can request an estimate or price quote or visit our design studio and showroom. You can also request a free design consultation which can be conducted in person, by phone or through the use of Whatsapp:-+91 93307 73787.
You can submit your custom epoxy design and get a price for fabrication and assembly. Customers are welcome to request a free design consultation- either in-store,or  over the phone describe your project. That way, we can identify all the services required to best suit your needs and give you accurate pricing. To schedule a consultation for a custom wood furniture design or refinishing project, contact Royal Epoxy.
" Get Epoxy Furniture at
Best Price
All over India"